Boundary Waters Fishing & Canoe Guide Profiles
Moose Track Adventures a Boundary Waters Outfitter & Guide Service, located near Ely Minnesota specializes in guided Boundary Waters Canoe Area (BWCAW) and Quetico Provincial Park trips. Moose Track Adventures guarantees our customers the most able and skilled fishing and canoe guides in the business. Each one has extensive experience and knowledge guiding our customers into the Boundary Waters Canoe Area Wilderness and Quetico Provincial Park. Whether you are interested in trophy fishing, fly-fishing, ecology, natural history, or just want the satisfaction of using a knowledgeable and qualified guide, Moose Track Adventures Guide Service will see to it that your needs are accommodated.
Jim Blauch
Jim has been exploring the woods, paddling waterways and discovering wildlife since childhood. As a wilderness guide and previous owner of Four Seasons Adventures, he has introduced many people to the diversity of flora and fauna, natural history, and ecosystem ecology of northern Minnesota – not to mention lunker fish! Jim holds degrees in wildlife management, chemistry, environmental studies, and graduate research in environmental biology. He has extensive interests and experience in wilderness ecology, natural history, backcountry skiing, skijoring, winter camping and wilderness preservation. Customers rave about his fishing knowledge and instruction, a wealth of local information, wilderness navigation abilities, enjoyable campfire stories and not to mention taste bud tantalizing meals. He will provide you with an unforgettable wilderness adventure.
St Croix Rod – Pro Staff
Northland Tackle – Pro Staff
Scientific Angler – Pro Staff
FFF Certified Casting Instructor
FFF Guide Association
FFF Life Member
CERTIFIED Federation of Fly-Fishers Guide
Mike Heiman
Mike grew up exploring the woods and fishing the lakes around his hometown of Ely, Minnesota.  At the young age of 14, he spent summers working for Moose Track Adventures primarily doing maintenance and ultimately after learning the ropes began guiding day and extended wilderness trips.  Mike went off to college in Madison, WI where he received a BS degree in engineering and began a career as an engineer.  After working for a few years in the Twin Cities area, his love for the wilderness kept calling him back to the North Country. In the summer of 2016, Mike and his wife launched their canoe from the dock at Moose Track Adventures and spent the summer paddling around Canada and finally reaching the Hudson Bay after 80 days. Mike decided in 2017 that the hustle and bustle of "city" life was not his forte' and returned home to northern Minnesota where he enjoys fishing, hunting, cross-country skiing, and sharing his love of the outdoors with visitors to the BWCA and beyond.
Chris Parthun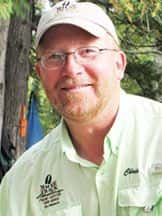 Chris, a veteran paddler of more than thirty years, brings a wealth of experience to our guiding team. He first canoed the Boundary Waters while in high school back in 1969 and has been returning ever since. Growing up backpacking and canoeing, as well as hunting and fishing with his father, taught him respect and appreciation for nature. Wilderness paddling has become his greatest passion and has enabled him to become an expert on gear, backcountry camping, and wilderness etiquette. In addition, Chris' clients have marvelled at his mouth-watering culinary skills. With separate degrees in Environmental Studies and Geography, Chris enjoys integrating his knowledge of the environment with an appreciation of where things are. Chris' trips will always have you coming away with a better understanding of the wilderness, and a heightened appreciation for stewardship of our natural resources. His experience and dedication to his trips and our clients make him a joy to be with on any adventure you may want to take.
Tom Houghdahl
Tom Hougdahl: Tom moved to Ely in 1997 with the intention of building, living and playing in the woods of Northern Minnesota. Patience, humor, love of people and comfort in the outdoors makes him uniquely qualified for those first-time paddlers and campers. "I love it when people get to see a moose for the first time, a child catches there first fish or a group is hushed by a wolf howl around a campfire, it reminds me again of why I live up north". Tom is an artist by trade and builds off-grid cabins as his full-time job.
Ron Guck
Ron Guck:  Ron has spent the majority of his life trekking through the Great Boreal Forests of Northern MN. Growing up in the shade of spacious pine trees and deciduous wooded areas, nurtured an eternal love of the great outdoors.  Upon graduation from High School, he pursued a degree in Natural Resources and then spent over 36 years with the Minnesota Department of Natural Resources mostly as a Field Forester, prior to retiring. This career provided endless hours either on foot, snowshoes, canoe, boat, ATV, snowmobile and 4 wheel drive vehicle, traversing across the Northern portion of the State surveying, inspecting, preparing prescription plans, and maintaining the overall health and vigor of MN State Forests. Studying and working with the Ecology and Environmental attributes of the many ecosystems contained within MN Forests have given Ron a unique understanding and appreciation for this wonderful area in and adjacent to the BWCA.