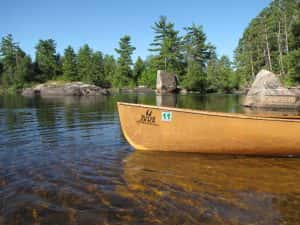 There's always that one person in the group that wants to go "just around the river-bend" like Pocahontas. Honestly, we encourage it! Exploring all that Ely, MN and the Boundary Waters has to offer makes for an unforgettable trip! For those that aren't ready to explore on their own or for those that prefer to gain some insightful knowledge while exploring, our experts at Moose Track Adventures can help! We are your preferred Boundary Waters Outfitter in Ely, MN and we would love to go around the river/lake/stream bend with you!
There's No Stepping in the Same Water Twice
One of the many miracles of the BWCA is the beauty of never stepping in the same water twice. Just like in the song, the water is always changing and always flowing. So no matter how experienced you are, it's helpful to have an expert to guide you along the way. Moose Track Adventures offers guided Boundary Water canoe trips that are made for both beginners and expert paddlers. We have the ability to customize your experience based on your abilities and goals for the trip. With extensive knowledge of the area, the BWCA, and the wildlife, our experts can make your canoe trip one of a lifetime!
Fishing Canoe Trip
Looking for something more than just paddling around? Let our expert guides lead you to spots on the BWCA where the fish are always biting. Learn something new or reinforce your own techniques as your guide takes you to different prime locations.
Eco-Tourism Canoe Trip
There is something about "looking beyond the shore" that makes you feel small in a world filled with insanely beautiful and thriving things. With passionate and knowledgeable guides, you can really dig your heels in on the BWCA wildlife, vegetation, and stunning views. Immersing yourself in nature brings about an entirely different perspective of the BWCA.
Customize Your Canoe Trip
Truly, whatever type of adventure you want to have is just a reservation away at Moose Track Adventures. Whether you need help learning how to paddle or you want to discover and explore with an expert guide, we have all the answers if you are searching for canoe trip help. At Moose Track Adventures, it's our belief that whatever brings you to Ely, MN is whatever we should be focusing on. Let us help you achieve your trip of a lifetime dreams with a customized canoe trip.
For more information on canoe trip help in Ely, MN, call Moose Track Adventures today at 218-365-4016 or send us an email at info@moosetrackadventures.com.