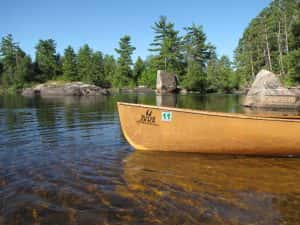 The season of visual change is in the air. As the temperature drops, so does the will for outdoor adventures, for some. For others, enjoying a day canoe trip in the boundary waters and seeing the beautiful fall leaf colors while paddling into crystal clear water is worth an extra layer. Here, at Moose Track Adventures, we provide Boundary Waters Outfitting and Guide Services that will assist your journey to be a great one! Having an experienced guide with you many come in handy when wondering about local environmental questions such as "what is floating there?" Or "where are all of the fish hiding?" Our professional guided or lone day BWCA trip excursions will leave you more knowledgeable about the area, connected with the earth, and wanting to come back for more! Give us a call today to set up your day trip adventures near Ely, MN!
Boundary Waters Outfitter
Having a highly educated and experienced boundary waters outfitter near Ely MN will make your time on the water that much enjoyable. The better the outfitter the better the experience. From paddling your lightweight canoe to learning about the different ways birds communicate. Our experts have traveled all over these lands, learning and exploring the great outdoors and we aim to help you see all that called you here in the first place. With our findings, our passion for mother nature and our education you will be able to bring some knowledge back with you to share. For an unforgettable boundary waters adventure there is only one outfitter option in the Ely area, that is us – here at Moose Track Adventures.
Come Back to the Boundary Waters
Having the day to yourself in the legendary boundary waters with the help of our outfitting options and guide availabilities you may never want to go back. Because you will never truly leave once you have been here. That organic feeling will always live inside of you, in the memories of the bright colorful changing leaves that break apart the large, blue never-ending sky, and the unrestricted wildlife living amongst each other. Something our world could really use right about now. The bright colors of the leaves that break apart the large blue sky and the smell of freshness will always be waiting for your return. Give us a call today to set up your day trip boundary waters outfitted journey 218-365-4106!
Save
Save
Save