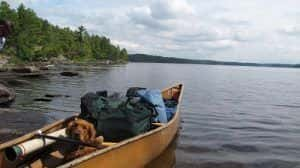 "The journey of life is sweeter when traveled with a dog." – Unknown
Looking to discover new challenges while also holding tight to your furry little friend? At Moose Track Adventures, our Ely resort is pet friendly and ready to house your entire family, including your pets. Let's face it, just like the quote says, life is sweeter when traveling with a dog. Why would we leave our animals cooped up at home or in a kennel when we have the opportunity to explore the world with them? At Moose Track Adventures, we are a BWCA Ely, MN resort that welcomes all friends, on both two legs and four.
Resort Cabin Accommodations
When you drive into our Ely resort, you may be greeted by two of our very own fur friends. Our cabins are each set up with plenty of space for your families to feel comfortable and for your dog to run around. Each cabin (with the exception of one) is situated right next to the lake and has a private dock for both fishing and storing your boat. If your dog loves the water, let them jump in and cool off right in front of your own cabin. Each cabin also comes with a grill, fire ring, and plenty of seating to enjoy the outdoors. This is a great place to let your dog off the leash and let him or her experience their own taste of freedom while on vacation. As long as they are well socialized and never left unattended, we enjoy watching them explore the resort with their owners!
Resort Accommodations
While we welcome all pets for a fun and pet friendly Ely resort vacation, it can't go left unsaid that we have so many things to do for the rest of the family too! Exploring Ely, MN and the BWCA while staying in a pet friendly resort is a win-win scenario for our guests. We offer the following resort amenities to all of our guests staying with us:
● Professional Fishing Advice
● Guide Service (advance reservation recommended)
● Free Maps of White Iron Chain of Lakes – Total of 11,000 acres of water to fish & explore!
● Fishing Cleaning Facility – Electricity & running water
● Boat, Motor & Canoe Rental
● Main Dock Great for Fishing with the Kids
● Free Docking of Personal Boats
● Satellite TV in Lodge
● Direct Access to BWCA from our Docks
● BWCA Permit Station
● Natural Sandy Beach & Play Set for the Kids
For more information about Ely, MN and our pet friendly resort, contact Moose Track Adventures today at 218-365-4106 or send us an email at info@moosetrackadventures.com. We look forward to helping you have your next family adventure!