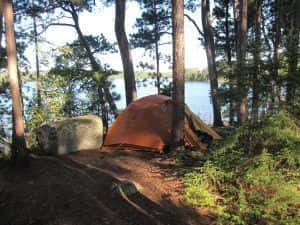 The weather has finally begun to warm up a bit and you may be ready to get back outside and on the water! It is the perfect time to plan your next outdoor adventure and the Ely, Minnesota and Boundary Waters area is an ideal spot for all types of fun. Guided canoe trips can be a great way to see the vast area, with a professional guide who can point out many interesting things about the wildlife and keep your group on track. A guided canoe trip can be designed for a novice or someone with significant canoeing experience and is looking for a challenge. The team at Moose Track Adventures can tailor a guided canoe trip to your needs, goals, ability and agenda. We can design just the right adventure for you and your group. Whether you want to go fly-fishing, or just take in the breathtaking and scenic views and wildlife of Boundary Waters, a canoe trip can combine fun, adventure and even relaxation.
Customized Guided Canoe Trips, Ely MN
Moose Track Adventures offers the following types of guided canoe trips and can also customize any of these to meet your needs:
● Ely Guided Fishing Day Canoe Trip: If you are looking to fish on your canoe trip, this is the day trip for you. Our guide will take you to places where you will be most likely able to catch a fish — and you will see some exquisite wildlife along the way.
● Guided Eco-Tourism Day Trip: On this trip, you will learn about the rich history Boundary Waters wildlife, vegetation, and the amazing views.
● Custom Canoe Guide Service: Jim Blauch, an owner of Moose Track Adventures in Ely, MN, and his team have decades of experience with guided boat trips in Boundary Waters and can develop a unique and customized itinerary for your group.
Experience Ely, MN and the Boundary Waters area
In addition to guided canoe trips. Moose Track Adventures can also provide you with a guided fly-fishing trip, gear for your adventure, campground amenities, and cabin and equipment rentals. Our staff is knowledgeable, professional and passionate about the Ely, MN area and enjoys getting to know new guests and helping them have the best possible experience in the area. For more information about Moose Track Adventures or to speak with a member of our team, call 218-365-4106 or email us directly at info@moosetrackadventures.com.