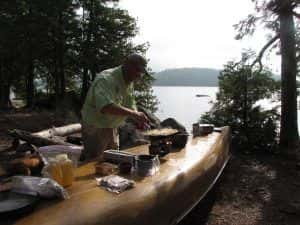 When you come to the boundary waters, you're looking for adventure in nature. You're looking for boat trips in the BWCA of Ely, MN that will leave you with lasting memories. The area's natural beauty, the slew of wildlife in the area, and the opportunity to explore and fish in the boundary waters is enough to draw in any adventurer. At Moose Track Adventures, we want to make sure that your journey in the BWCA is not just enjoyable but also safe, and that's why we offer outfitting and guide services to all of our adventurers. With a variety of outfitting packages intended for different day trips, half-day trips, or even week-long trips, we are able to provide personalized outfitting gear that will help you make the most of your trip. In addition, our guides will be with you along the way to help you find everything you're looking for on your trip, from fishing spots to wildlife havens, so that you leave with the best memories you could make.
BWCA Outfitting Packages
The outfitting package you need will depend entirely on the BWCA trip you choose. We offer a range of outfitting packages intended for fishing trips, camping trips, and boating trips, helping you enjoy your time while being prepared for anything you may need or experience during your stay in the boundary waters. Out outfitting packages include:
Deluxe Kevlar Canoe Outfitting Package:
• Kevlar canoe and canoeing gear
• Camping gear
• Cooking equipment, eating utensils, food, and more
• Personal BWCA gear necessities
BWCA Canoe Rental & Food Package:
• Kevlar canoe and gear
• Cooking equipment, utensils, and food and more
• Lunch and dinner included on first day, breakfast and lunch provided on last day, all other days include 3 meals per day
A la Carte / Partial Outfitting Packages:
• Kevlar canoes for 1-4 people and canoeing gear
• Camping gear
• Cooking equipment and food
• Personal BWCA gear
• Access to shower and parking
With our a la carte package, you can choose your outfitting needs based on your trip and your own personal gear you've already brought.
BWCA Outfitting Gear Brands
We value quality at Moose Track Adventures, and that's why we use only the best outfitting gear brands for our BWCA outfitting packages. Our outfitting packages include outfitting gear brands like North Face, Marmot, Mountain Hardware and Kevlar canoes so that you can be sure you have the best brands for your trip without having to worry about whether your equipment will hold up.
Guided BWCA Trips
If you're interest in a guided BWCA Ely, MN trip, Moose Track Adventures has the gear and professional BWCA guides to help you have the best trip imaginable. Our guided boundary waters trips are intended to help you experience the great outdoors your own way, offering you access to an area that is a must-see for avid fishers, boaters, and campers alike. To plan your outfitted and guided BWCA trip, contact us at 218-365-4106 or info@moosetrackadventures.com today.