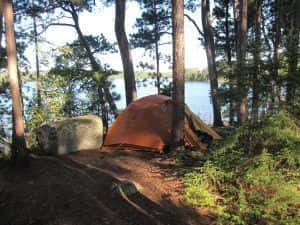 Planning a BWCA boating, camping, or fishing trip can seem like quite a production, especially when you're considering bringing all of your own gear and necessities. Fortunately for you, Moose Track Adventures wants to make planning your BWCA Ely, MN trip easier and less stressful by offering complete and partial outfitting packages. With the best outfitting gear brands, we'll set you up with gear that will fully prepare you for any trip you choose, whether you're here for a few hours or a few days. We have a variety of outfitting packages to choose from, and our BWCA outfitters and guides will help ensure that you choose the right package for your trip.
Boundary Waters Outfitter Ely
Deluxe Kevlar Canoe Outfitting Package:
Kevlar canoe, yokes, paddles, life vests
Camping equipment, including a tent and tarp; sleeping bag, pillow and sleeping mattress, and more
Cooking equipment and eating utensils, food and food packs, fire gloves and fire starter, stove and fuel included in cost, an optional griddle, dish soap and scrubber, and trash bags
Personal BWCA gear necessities, including maps, gear packs, rope, boat tape, toilet paper, water bottles, folding saw, and other necessities
BWCA Canoe Rental & Food Package:
Kevlar canoe and canoeing gear
Cooking gear and utensils, food and food pack, stove and fuel available for additional cost
Lunch and dinner included on first day, breakfast and lunch provided on last day, all other days include 3 meals per day
A la Carte / Partial Outfitting Packages:
Kevlar canoes for 1-4 people (cost varies by size) and canoeing gear
Camping gear, cooking gear and food, tents and tarps, sleeping necessities, and camping chairs
Access to shower and parking
Full- and Half-Day Outfitted Fishing Trips
Guide, boat or canoe and life jacket, fishing needs, complementary fish cleaning, and fishing permits (depending on trip)
Fresh-caught and cooked lunch on the BWCA for an additional cost
Overnight Guided and Outfitted Fly-Fishing Trips
Fishing and camping gear for six days and five nights, including everything in the deluxe Kevlar canoe outfitting package
Professional guide, lodging and breakfast prior to your trip, and shuttles to and from the BWCA area
Professional BWCA Outfitters and Guides
After years of exploring the BWCA Ely, MN area as adventurers and guides, the professional BWCA guides at Moose Track Adventures have the expertise to help you make the most of your boundary water trip. Not only can we help you have the experiences you're looking forward to, we'll make sure that you have the right gear for your trip so that there's nothing you can't do! Contact us today at 218-365-4106, or send us an email at info@moosetrackadventures.com to learn more about our BWCA outfitting options and which outfitting gear might be best for your boundary waters journey.