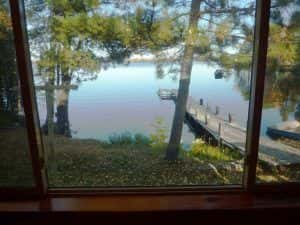 Are you looking for your next great adventure? Do you want to be able to get a closer look at the great outdoors without having to constantly be… outdoors? At Moose Track Adventures, you can have the camping experience you want, tailored to fit your needs exactly. By opting to stay in one of our lakeside Ely, MN resort cabins, you can have all of the amenities of staying in a cabin while also experiencing BWCA boating, fishing, and adventuring right outside your front door. With our BWCA lakeside cabins, you'll have the opportunity to participate in guided canoe and fishing trips in the boundary waters, fishing in the lake right outside of your cabin, and relax inside when you've had enough fresh air for the day. With outdoor activities for the whole family and enough comfort to suit even the least experienced campers, you can't go wrong with an Ely MN BWCA cabin rental.
BWAC Cabin Amenities
When campers and adventurers come to our Ely resort cabins, they're looking for a novel experience that won't leave them wishing they were anywhere else. Our cabins can be your home away from home as long as you're with us, offering many of the comforts of your own home. The only difference is that you'll be surrounded by beautiful boundary water nature and wildlife. We want to give our guests an authentic cabin experience, and that's why our cabins are equipped with many everyday essentials as well as camping necessities. You'll notice, though, that you won't find everything you have in your own home. Each of our resort cabins is equipped with a slew of kitchen necessities, including a full-sized refrigerator, gas stove, microwave, coffee pot, blender, toaster, and several other kitchen appliances and utensils. In addition to these cabin amenities, you'll also have access to Wi-Fi in your cabin and in the resort lodge; however, there are no telephones or TVs in the cabins. If you're in need of indoor entertainment, though, the lodge is outfitted with a TV for your enjoyment!
Outdoor Resort Cabin Amenities
Even though you'll be staying in a cabin, we know that you're still looking for many of the experiences you'd have while camping outdoors, so we've equipped the lakefront cabin area with typical outdoor camping amenities, including a stone fire pit, picnic table, charcoal grill, and a private dock. Here, you can park your own boat or a boat rental from our resort. In addition to everything we do to make your stay as simultaneously adventurous and comfortable as possible, our resort cabins and lakefront area are dog-friendly, so feel free to include Fido in your camping trip! To experience an Ely, Minnesota resort cabin experience with Moose Track Adventures, contact us at 218-365-4106, or email info@moosetrackadventures.com to learn more about our lakeside cabins or our guided BWCA fishing trips.